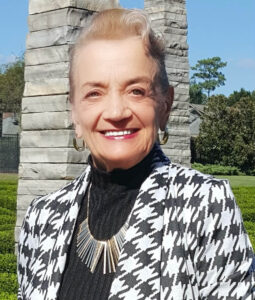 Benigna Molnar Willman, age 80, passed away on August 13, 2021 surrounded by her loved ones. Benigna was best known to others as Benny.
She was a lifelong resident of Highland Park, NJ for over 50 years.
Benny was born and raised in New Brunswick, NJ. She graduated from St. Joseph's Hill Academy.
Benny is survived by her daughter, Kirsten Toth and her husband Barnabas; daughter Robin Brown, her husband Jim, and three granddaughters, Taylor, Emily, and Ashley; brother Martin, his wife Tricia, and their son Christopher; and her son-in-law Chandler and his wife, Ada.
She was preceded in death by her daughter, Nicole V. Cole; former husband, James D. Willman; her sister, Bernice Grover; and her parents, Julia Balind Molnar and John Molnar.
Benny was an accomplished artist whose career spanned over 50 years. She used all mediums, best known for her work in oil. She taught in several private schools in NJ and provided private art lessons to all ages. She had a true gift for connecting with her students and teaching them how to express themselves through art. She participated in art fairs, had art shows in galleries throughout the Tri-State area, and was awarded for her talent.
She had a love for cooking and baking. She catered during the holidays and throughout the year, incorporating traditional Hungarian dishes and desserts.
She was a passionate gardener, loved nature, animals, music, and old movies. She loved to laugh, be witty, and have gatherings to celebrate life. She brought the best out in others, and always looked for the good in life.
A funeral mass will be held at St. Brendan The Navigator Catholic Church in Cumming, GA on Saturday, August 28, 2021 at 11:00 am. Live streaming will be available.
A funeral mass and burial will be held at our family parish, St. Ladislaus Church, in New Brunswick, NJ, in June 2022.
In lieu of flowers, memorial donations can be made to the St. Jude's Children Hospital or the Best Friends Animal Society.